Contracts and Comments
Conferences
FAQ
Novel Writing Courses
Faculty

Algonkian Writer Conference Reviews by Authors

The reviews, comments and success stories noted below by writers, authors, and agents who have attended workshops and events held by Algonkian Writer Conferences are a representative sample of the total positive responses. All of the material is the result of various articles, interviews, comments made in Internet forums, as well as mails sent to us.
NOTE
: we do not simply list writers who have been published following attendance at our events unless we have received a communication from them advising us of the connection.
Interviews With Authors Who Have Attended Algonkian Events





Algonkian talks with author Randy Susan Meyers : click here.



Algonkian talks with bestselling author Pamela Binder : click here.



Algonkian talks with new author Kim Boykin : click here.



Algonkian talks with mystery series author Julie Kaewert : click here.



Algonkian talks with series author Kathleen Gallison : click here.


---
Writer Comments and Author Contracts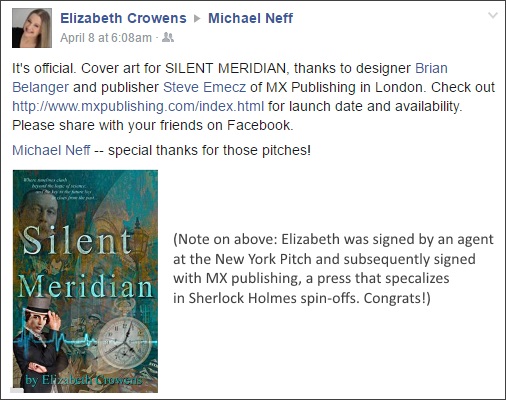 Robin Stewart's techno-thriller, "Kill Signal,"
was pitched at the March 2016 and soon signed by Talcott Notch Agency--represented at the New York Pitch event by agent Paula Munier. The ms is now undergoing edits with Algonkian staff. Congrats to Robin. This thriller is going to be a bestseller, we're certain! We love you Robin!!!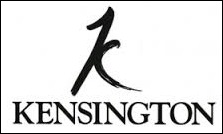 From Publishers Marketplace:
Sandi Ward's "The Astonishing Thing" pitched as "The Art of Racing in the Rain" meets "The Curious Incident of the Dog in the Night-Time" to John Scognamiglio at Kensington, in a two-book deal, by Stacy Testa at Writers House. Congrats you old pitch conference! [
more by Sandi
]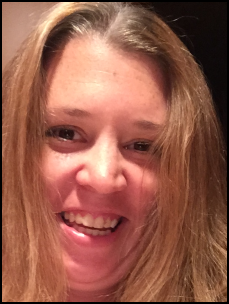 Amanda Greenfield says, "Because of your conference I had 2 editors, one being Tessa Woodward, ask for my MS and/or pages and another forward my info to one of her associate editors at St. Martins.
I was able to cross reference that with information on Publishers Marketplace and sent a query to an agent that worked with Tessa Woodward at Harper Collins. I sent her the first 50 pages and she was really excited about my work. She read the rest of it the next day and immediately sent me a contract. [
more
]

Roger Johns, an alumnus of the September 2015 New York Pitch Conference
, wrote and told us: "Just wanted to let you know that Paula Munier, my group leader from the conference, took me on as a client and negotiated a deal for my book - DARK RIVER - with St. Martins. Announced tonight on Publishers Marketplace. Thanks for a wonderful experience. The conference was superb. I'm spreading the word among my critique groups in Atlanta."



Algonkian alums Tracee Hahn (on left) and Britt Tisdale (right) signed recent contracts as a result of attendance at the New York Pitch Conference.
Tracee's novel, SWISS VENDETTA, was edited and sold by Algonkian NYC agent faculty to Elizabeth Lacks at St. Martins. Britt's women's fiction novel, DAUGHTERS OF ROSA LA ROUGE, found home with Marsal Lyon Literary Agency: "I re-vamped my pitch, also revised the book to reflect new emphasis. 18 agents requested the ms..." [
more
]

At last count, an estimated 51 total manuscripts are currently in the process of being reviewed by publishing house editors.
More than 63% of total ms presented and discussed at length at our last events were requested, and 75% of all ms requested were requested by more than one editor. This high percentage is a result of intelligent project screening, great projects, attentive editors, and liberal applications of superb pitch craft.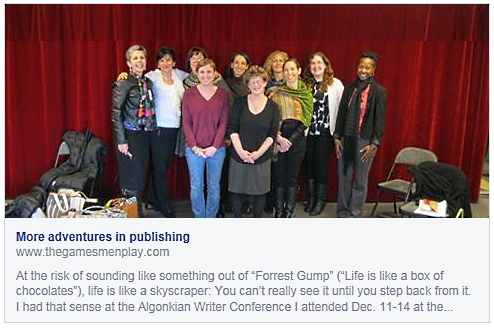 "My novel was requested by four of the five editors I pitched. Tessa Woodward at Harper Collins quickly made an offer for it, and Paula Munier, who had read my first page at the conference, represented me to negotiate a contract. After getting Tessa's notes, I am now working on a significant re-write that will expand and improve my novel more than I ever could have on my own."

Kim Van Alkemade, Author of ORPHAN 8




275 queries later, I attended the New York Pitch and by lunch of the first day I knew exactly why my novel had failed. By the end of the day, I had changed the title, made editorial changes to the story, and later, when time came to query, I employed the strategy recommended at the conference: research agents on Publisher's Marketplace and use the editors from the conference who requested manuscripts as leverage. Within one hour I received an email requesting a full manuscript from an agent at Trident Media. Six days later I received another email about my novel, THE ENIGMATOLOGIST, and requesting to discuss representation. Using what I learned at the conference, I was able to do in what week what I couldn't do in three years. I'm absolutely convinced that everything I learned at the conference is responsible for my success.

- Benjamin Adams, signed by Trident Media Agency




Cate Holahan's DARK TURNS pitched at the NYC in Paula Munier's NYC mystery/thriller workshop and sold to Matt Martz at Crooked Lane, the new crime fiction imprint of Bookspan--two book deal. Publication set for 2015. Paula Munier, NYC faculty, representing Cate and DARK TURNS.



Cate Holahan's DARK TURNS