Algonkian Author Salon's Anna Newallo has signed with DYSTEL AND GODERICH. She put her novel through the AAS NOVEL WRITING PROGRAM, attended the New York Pitch Conference, and worked personally with Algonkian editorial staff to hone both her novel and her marketing savvy with agents.


In Anna's dark and thriller-like novel,
FRAGILE WICKED THINGS
, a Southern woman falls for her Byronic employer and soon discovers his dark immortal secret. In doing so, she is in for the fight of her life to defeat his sire, Blanche, and her nest of evil things in this retelling of Jane Eyre.
Anna's frank assessment of her time with us, in her own words: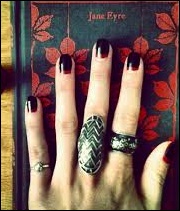 "I gave birth without drugs. Twice. Combined they were less painful than this course was. Somewhere between Parts I and II, I quit the program. I felt good about it, so good that I told anyone who would listen that I quit Author Salon and yes, I was okay with it. Why wouldn't I be? Then an email was sent about the many who were silent, sputtering about, hidden behind computers in the cyber world. After all, their identities were unknown so the failure didn't matter. Except it did to me. A true writer.
After many expletives, I picked up where I left off. I am very pleased now to announce that I am represented by Sharon Pelletier of Dystel & Goderich Literary Management. None of this would have been possible without this intense program. I've recommended it to many people with the caveat it's a program for true writers who are willing to put in the work. Also, the value of editorial input into the query letter/process and sales pitch was a worthy reward for all that struggle and hard work.
____________________________________________
About Anna NewalloAnna Newallo's stories have appeared in The Outrider Review, the anthology Ten Stories High and in the arts and literary journal Existere. A graduate from The Humber School for Writers, Newallo worked with M.G. Vassanji on her novel. After completing an Honours, B.A. in Creative Writing at York University, she became an award-winning producer of independent films which have played at major festivals such as TIFF, Palm Springs, and Raindance (UK). The films have won both Genie and Gemini Awards.