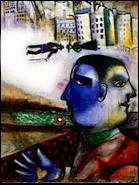 Algonkian Author Salon's Kate Cox has signed with JENNIFER LYONS AGENCY, and we couldn't be more pleased.
Kate has attended several Algonkian events, been a member of AAS, and has worked periodically with Algonkian director Michael Neff on her novel, THROUGH CHAGALL'S WINDOW. Her new agent, Jennifer Lyons (the third agent she queried), represents numerous big name authors. The awards they have received include the Nobel Prize, The Pulitzer for both Fiction and Nonfiction, the National Book Award for both Fiction and Nonfiction, PEN Literary Awards, the Hurston/Wright Legacy Award, the Coretta Scott King Book Award, the National Jewish Book Award, The Koret Award, The Lambda, and many others.
THROUGH CHAGALL'S WINDOW
begins in a cold Moscow spring, two years after the 70-year-long Soviet dictatorship has officially ended. Now, without the guarantees of the Soviet system—housing, wages, and access to an affordable if modest life—the last generation to grow up under communism must find a way to adapt to their precarious circumstances. Into this world arrives Alexandra Ash, wanting to shed her shameful American past and embrace a people and culture she believes to be superior to her own...
________________________________________________________
Katherine Cox
Fiction Writer and Teacher
Katherine has an MFA in fiction from George Mason University. She taught creative writing and literature classes at George Mason where she studied with authors Richard Bausch and Alan Cheuse. In 2003, she began publishing a weekly newspaper for the Capitol Hill neighborhood of Washington, DC. Between 1990 and 1993, she lived in Moscow translating catalogues and critical essays for Russian painters. There, she absorbed the setting for her first novel, THROUGH CHAGALL'S WINDOW. Her story The Sailboat won runner up in the Glimmer Train new writer's contest--recognized for its brilliant prose style, use of setting and detail, all of which pull readers deep into the world of her story. Kate has also been a workshop leader in Algonkian workshops, most recently in Santa Barbara.